License Plate Trophies
(mostly mounted)

Awards . . . A License Plate Ring Site
---

Peter has been a member of the Automobile License Plate Collectors Association (ALPCA) since 1990 (#5533) and joined NPCC in 1999 (#758). He is also on the License Plate Collectors Mailing List. "The Collection" (jointly with his father) totals in excess of 2300 plates, mostly U.S. and Canada, with a strong representation from Australia.
A sideline to collecting license plates themselves is taking pictures (the "trophies") of unusual plates you see on the road. Many of these plates are too new, expensive, or uncommon to be in the collection (at the time they were photographed). Of course, in time many of these may be acquired and put into the collection. I have scanned the pictures I have and made them accessible. They are accessible through a JavaScript form (in the frame below, if your browser supports it) or through tables listing plates by type as well as by state/country.
Also, I'd like to point out Peter Thompson's site. He's had some success with similar trophy hunting in Western Australia. And Joe Sallmen brought back lots of trophies from his recent trip to Japan.
---
on or since September 4, 1998
---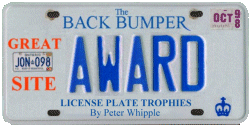 This site was awarded the Back Bumper Great Site Award for October 1998.
---
You can send e-mail to Peter.

This page was created with Netscape Navigator Gold.
---
This site last updated on November 11, 1998.
Copyright © 1997, 1998 by Peter A. Whipple and Richard A. Whipple. All rights reserved.